Illinois State University
Dream Big
Our campus will give you what it takes to accomplish your goals right from the start.
Visit Student Life
Why We're Here
Everything we do is rooted in learning. It's our oldest tradition and even our motto. That's why 85 percent of classes in over 200+ degree options are taught by professors.
View by program type or interest area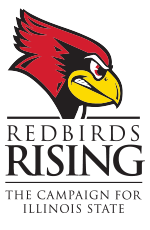 Redbirds Rising: The Campaign for Illinois State
With your help, current and future generations of Redbirds will soar to advance themselves and the University in ways unprecedented.
Top 100 Public University
Illinois State made U.S. News & World Report's 2019 rankings of America's best public national universities, at No. 91, based on academic quality and excellence.