Why We're Here
Everything we do is rooted in learning. It's our oldest tradition and even our motto. That's why 85 percent of classes in over 200+ degree options are taught by professors.
View by program type or interest area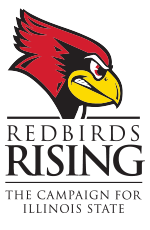 The Credit is Yours
Redbirds Rising: The Campaign for Illinois State concluded on June 30, 2020. You answered the call for support, making Redbirds Rising the University's most successful fundraising effort. Thank you.