University closed January 19-20 due to weather
Due to the impending severe weather, Illinois State University will be closed Saturday and Sunday. Essential personnel should continue to report to work. Residence halls and residence hall dining centers will remain open. The Student Fitness Center will be open from noon–3 p.m. All other campus buildings will be closed on Saturday and Sunday. The University will continue to monitor the weather forecast throughout the weekend and provide updates if necessary. Grounds workers will be clearing walkways, stairwells, and parking lots as weather conditions permit. Please use extreme caution as you move about campus.
Resources
Why We're Here
Everything we do is rooted in learning. It's our oldest tradition and even our motto. That's why 93 percent of classes in over 200+ degree options are taught by professors.
View by program type or interest area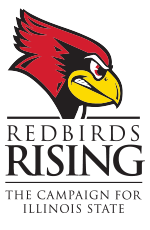 Redbirds Rising: The Campaign for Illinois State
With your help, current and future generations of Redbirds will soar to advance themselves and the University in ways unprecedented.
Scorecard Star
Only 41 of nearly 700 public U.S. universities have a College Scorecard as strong as Illinois State's, thanks to our high graduation rate and alumni earning power.