Diversity
Who We Are
Diversity is a core value at Illinois State. We foster an inclusive environment characterized by cultural understanding, ethical behavior, and social justice.
Our Core Values
Nationally

from 47 U.S. States & territories

Globally

from 67 countries

1 in 5 students

from traditionally underrepresented groups
Join a Diversity Advocacy student organization or other groups related to diversity, sports clubs, leadership, entertainment, and service—or create your own.
Being in a space with so many amazing and passionate people has allowed me to learn so much more about activism, and even myself.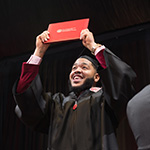 High Expectations
Graduation rates for our African American and Hispanic students far exceed the national average. Our overall graduation rate is in the Top 10% nationwide.
The Black Colleagues Association scholarship made a huge difference in my life. I have no loans to repay. Receiving the scholarship money every year definitely helped with that.
Lavender Graduation
Each spring we celebrate our graduating LGBTQ+ and allied students at a special recognition ceremony, another step toward a more inclusive campus.