Devoted to Our Own
Illinois State University is dedicated to the success of students living in Illinois.
$4 Million added to Redbird Scholarship
In association with Illinois' AIM High initiative, Illinois State is adding an additional $4 million to assist students with financial need through our Redbird Scholarship program. Beginning with this fall's application process, all new freshmen with a high school grade point average of 3.0 on a 4.0 scale and an SAT of 1200 or ACT of 25, will automatically qualify for a Redbird Scholarship of at least $1,000 and as much as $4,000 per academic year.
McLean County Full Tuition Scholarship
Five McLean County students will win four years of free tuition based on the student's leadership, community service, and civic engagement in this county. Available to new freshmen, each of these scholarships carries a present-day value of $50,000. In addition, every McLean County student who applies for the award will automatically receive a one-time $500 scholarship to Illinois State just for participating.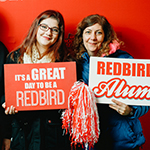 Beginning with this year's application process, new freshmen or transfer students who have a parent or grandparent that graduated from Illinois State will receive a $500 scholarship each year for up to four years.
Invested in those with greatest financial need
For many years, Illinois State has been fully invested in our students with the greatest financial need, and we will continue to provide nearly $13 million in ISU Access Grants annually to serve students from families in the lowest income levels. Combined with MAP and Pell Grants, these students generally pay little or nothing for tuition and fees. In many cases, the MAP Grant, Pell Grant, and the ISU Access Grant are enough to cover a portion of the student's housing charges.
Other Scholarship Opportunities
These are just a few of our scholarships available to incoming freshmen and transfer students.
To apply for any of the scholarships listed that you are eligible for, submit your application for admission to Illinois State University. It's that easy!