Redbird Athletics
Over 400 Illinois State student athletes compete in 19 sports, primarily in the Missouri Valley Conference. The Redbirds have taken home nine team and individual national championships, hundreds of All-American honors and more than 160 MVC league titles. Led by the award winning Red Alert student section, fans pack the stands on gameday helping make Illinois State one of the toughest places to play in the Midwest.
The Red Alert student section is the voice and passion supporting the student-athletes in the stands. Your Red Alert membership includes a ticket to all regular season home football and men's basketball games, and a prime spot at all other Redbird Athletics events. Be sure to arrive early for the best seat and chances to receive giveaways! Space fills up fast and your voice is needed.
Follow Red Alert
Reggie Redbird
Since 1960, our feathered friend, Reggie Redbird, has been on the sidelines for Illinois State. While he's been a staple for the Redbirds, it wasn't until 1981 when he finally took on the name of "Reggie" after baseball hall of famer Reggie Jackson.
Follow Reggie
It's more than a band, it's a machine. Illinois State's Big Red Marching Machine has a storied history of being one of the top marching bands in the Midwest. Beyond entertaining crowds at Hancock Stadium, BRMM has taken home countless awards including Best Overall Band in the Dublin St. Patrick's Day Parade in 2017.
Follow the Redbirds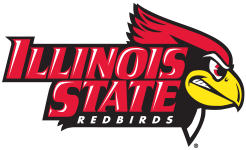 Download the Redbird Athletics App
Schedules, real-time score and news alerts, stats, interactive venue maps, and more can be found in this new mobile fan experience.
Online Home of Redbird Athletics
Schedules, rosters, news, and more! Visit GoRedbirds.com for all things Redbird Athletics.