Illinois State University
Redbird Philanthropy Week
Experience the impact of philanthropy across campus with special activities and exhibits.
Join the Celebration
Why We're Here
Everything we do is rooted in learning. It's our oldest tradition and even our motto. That's why 85 percent of classes in over 200+ degree options are taught by professors.
View by program type or interest area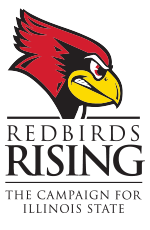 Redbirds Rising: The Campaign for Illinois State
With your help, current and future generations of Redbirds will soar to advance themselves and the University in ways unprecedented.
First-Choice Institution
Illinois State welcomed it's largest freshman class in 33 years and largest-ever incoming class of Honors students. We enroll more than 20,000 students, while maintaining academic quality and small class sizes.