Founding Celebration
Celebration of Illinois State's Founding February 19-20, 2020
2020 Schedule of Events
Esteemed alumnus Andrew Purnell '57 was slated to receive an honorary Doctorate of Humane Letters during the Founding Celebration activities. Due to unforeseen circumstances, his investiture will be postponed until next year.
Other events, including the Bell Ringing and the Faculty/Staff Appreciation Luncheon will continue as planned.
Wednesday, February 19
11:30 a.m.
Faculty/Staff Appreciation Luncheon
Brown Ballroom, Bone Student Center
Continuing the tradition of honoring Redbird family members with the Faculty/Staff Appreciation Luncheon. During the event, Years of Service honorees as well as Civil Service and Administrative/Professional scholarship recipients will be recognized.
Additional awards to be presented at the luncheon include: Outstanding University Service Award, Service Initiative Awards, David A. Strand Diversity Achievement Award, Environmental Stewardship Award, CS Distinguished Service Awards, A/P Distinguished Service Awards, A/P Emerging Leader Award, CS and A/P Esprit de Corps, TEAM Excellence, and Stan and Sandy Rives Excellence in Undergraduate Education Award.
Thursday, February 20
8—10 a.m.
Loyalty Circle Coffee
Marriott Hotel & Conference Center

Loyalty Circle donors are invited to enjoy a reception with light refreshments prior to the Bell Ringing Ceremony.
10 a.m.
Founders Bell Ringing and Honorary Doctorate Investiture
Brown Ballroom, Bone Student Center
Nominate a Bell Ringer by January 17.
6 p.m.
Alumni Awards Dinner
Hancock Club Room
Register for this year's Alumni Awards Dinner.
For more information, please contact Alumni Engagement at (309) 438-2495.
Honorary Degree Recipient
Andrew Purnell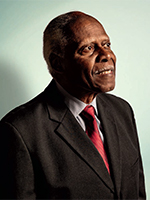 Andrew Purnell arrived on campus in 1953, interested in engineering. He studied industrial arts, switched to math as his major during his junior year, and graduated in 1957. Beyond working to cover his college expenses, Purnell was active in intramural wrestling, fast-pitch softball, and bowling. He was inducted into Iota Lambda Sigma, an honorary fraternity, and served on the advisory boards for his class as a junior and senior.
Purnell joined peers in forming the University's first NAACP chapter. Members tested public accommodations for African Americans in Bloomington. The local roller rink and YWCA allowed access to black residents only once a month at the time, with restaurants refusing service. A meeting with the McLean County State's Attorney resulted, with a promise that unlawful discrimination would end.
Purnell was drafted into the U.S. Army. He trained in Colorado and did classified government work at Aberdeen Proving Ground in Maryland. He declined a job with NASA, choosing instead to complete a master's degree and pursue a career in education. He taught math and served as an administrator in Illinois at Eisenhower High School and Alan B. Shepard High School.
In 1983, Purnell began working to create the Illinois State University Black Colleagues Association, which was chartered on campus in 1984 with 40 participants. Membership has risen to nearly 300 and more than $280,000 has been raised to provide black students with scholarships.
Purnell has served on the University's Alumni Association Board and various campus committees. He has been inducted into the Steve and Sandi Adams Legacy Hall of Fame and received the Alumni Association Mercier Outstanding Service Award. In 2013, he was chosen as the alumnus Homecoming king.