Faculty/Staff Chili Cook-off
Faculty, administrative/professional, and civil service staff are invited to the Illinois State University Faculty/Staff Chili Cook-off luncheon on Tuesday, October 22, 2019.
The lunch menu, prepared by Event Management, Dining, and Hospitality, will feature beef chili, chicken chili, vegetarian chili, chili condiments, corn bread, crackers, dessert bars, and beverages.
During the luncheon, winners of the preliminary chili cook-offs from across campus will compete to be crowned the 2019 Chili Cook-off Champion. A panel of judges will taste and evaluate the entries during the luncheon and the winner will be announced at the conclusion of the luncheon.
Entries in the final competition will be judged on aroma, consistency, appearance, taste, and aftertaste.
Questions about the cook-off competition and luncheon can be directed to the cook-off committee at 438-8790 or universityevents@ilstu.edu.
Please join President and Mrs. Dietz and your campus colleagues at the Illinois State University Chili Cook-off. Don't miss the announcement of the Homecoming Campus Decorating Contest winners! Civil Service Council raffle tickets will also be available.
If you require an accommodation to fully participate in this event, please contact University Events at 438-8790 or universityevents@ilstu.edu. Please allow sufficient time to arrange the accommodation.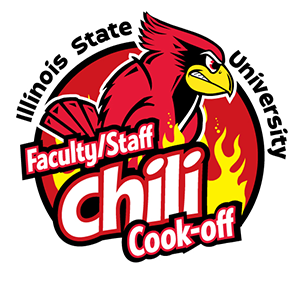 Tuesday, October 22, 2019
11:30 a.m.–1 p.m. Buffet
12:30 p.m. Program
Brown Ballroom, Bone Student Center
Registration is not required.
Faculty/Staff I.D. must be provided at the door.
I.D. cards will be electronically swiped for entry into the event.
To register your department/area chili cook-off winner OR to register to compete as an individual for the miscellaneous cook-off
All recipes containing meat must identify and indicate what type. Wild game is allowed, but you must clearly indicate the ingredient and the meat must have been commercially processed. All ingredients must be presented in typed and printed form, so tasters can avoid any chili that might cause an allergic reaction.
Other than these rules, there are no rules as to ingredients or preparation.
All chili will be judged on the following criteria:
Aroma
Consistency
Color appropriate to category
Taste
After Taste
All entries must be pre-cooked. There will be no preparation area available.
Contestants must be University employees (faculty/staff) at the time of the University competition to be eligible to compete. The employee must cook and prepare the chili presented in the competition. "Store bought" or "commercial" chilies are not eligible to be entered into the competition. Students will not be allowed to participate in the University Chili Cook-Off since it is a faculty/staff event.
Contestants are responsible for supplying all of their own cooking utensils and cooking pot. The sponsors of the cook-off will provide an area with electrical outlets for each contestant. Bowls, spoons, napkins, and tasting cups will be provided by the event sponsor. Some condiments will also be provided.
Each contestant must cook a minimum of two quarts of competition chili prepared in one pot, which will be submitted for judging. Judges will judge chili without condiments (cheese, crackers, etc).
All costs for ingredients, preparation, transporting and serving are the responsibility of the entrant.
Hosting a Department Cook-off
Step 1: Know the rules
Review the rules posted above. Participants must follow the rules for the department and university-wide chili cook-off.
Step 2: Solicit interest
Inquire if others in your department/area are interested in participating in a chili cook-off.
Step 3: Schedule and host your chili cook-off
Arrange a date, time and place for your cook-off and communicate information within your department.
Step 4: Submit a bracket entry form
Register your departments's chili cook-off participant using the participant entry form by the deadline. The winner of your departmental cook-off will proceed to the University-Wide Faculty/Staff Chili Cook-off in October.
Step 5: Announce the winner
Count the score sheets and announce the winner of your cook-off. Sample score sheets are available (or you can select your winner by popular vote).
Suggestions for a successful cook-off event
Post flyers or send e-mails to publicize the event within your department.
Use a sign-up sheet to track the names of competitors and attendees.
Check to ensure there are plenty of outlets and power strips available the day of the event.
Bring plenty of copies of the judges scoring sheet for all attendees.
Invite colleagues to decorate, take pictures, bring chili toppings, desserts, beverages, utensils, bowls, napkins or other dishes to share.
Provide small cups for those who wish to taste a small portion of each chili.
To ensure everyone attends, send a reminder e-mail to all those who signed up.