About the Trustees
Kathryn Bohn, Board Secretary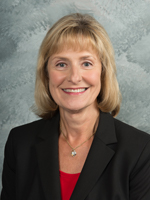 Bohn is currently a physician and partner at the Vein Specialists. Prior to this role, Bohn worked as an emergency physician for 24 years and served on the Eleventh Judicial Circuit Family Violence Council. She has also served on the Red Cross Board, the Illinois State University Foundation and Alumni Boards, the Southern Illinois University Foundation Board and served as the President of the Southern Illinois School of Medicine Board of Governors Alumni Association from 1999 to 2003. In 1999, Bohn was awarded the McLean County YWCA "Women of Distinction: Award for Professions" award and in 2005 she was inducted into the Illinois State University College of Arts and Science Hall of Fame.
She received her Doctor of Medicine from Southern Illinois University, after receiving both her Master of Science and Bachelor of Science from Illinois State University.
Term Expires January 2023
Robert Dobski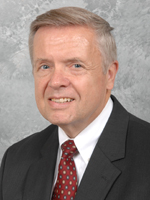 A former co-owner of 10 area McDonald's Restaurant franchises, Dobski served as president of the Peoria-Bloomington McDonald's co-op and vice chair of the Ronald McDonald House Charities Board in Springfield. His newest venture, RobDob's Restaurant and Bar is scheduled to open in Bloomington in Summer 2019. A long-time supporter of Illinois State and the Bloomington-Normal community, Dobski and his wife, Julie, were named Philanthropists of the Year by the Illinois Prairie Community Foundation. Dobski's service includes leadership roles with The Baby Fold's Festival of Trees and the McLean County Chamber of Commerce along with being a member of the Illinois State University Foundation Board of Directors. He has been active with The American Red Cross of the Heartland, the Bloomington-Normal Economic Development Council and the W.D. Boyce Council Boy Scouts of America.
He is a 1969 DePaul University graduate.
Term Expires January 2023
Julie Annette Jones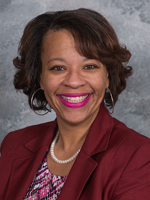 Jones has spent the last seven years working in real estate and estate planning law at her firm Julie Annette Jones P.C. Jones is committed to making first-class legal assistance accessible and convenient within the Chicagoland area. Jones launched her firm following 15 years in corporate law and two years in estate planning. Jones also serves as the immediate past president of the National Council of Negro Women-Chicago Central Section, the secretary of Gospel Kitchen, and a member of the University's Attorneys Advisory Board, Black Colleagues Association, Alumni Association Board of Directors. the Board of Trustees at St. John Missionary Baptist Church and Delta Sigma Theta Sorority, Inc.
Jones received her Juris Doctor from Emory University and a dual Bachelor' degree in political science and psychology from Illinois State University.
Term Expires January 2025
Mary Ann Louderback, Board Chairperson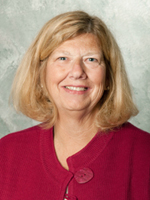 Louderback is a co-owner of Liberty Outdoor Advertising/Liberty Self-Storage. Louderback has worked for the State of Illinois in numerous positions since 1983, when she started with the Department of Commerce and Community Affairs. From 1991 to 1993, Louderback served as the Executive Assistant for Education to the Governor. In this role, she served as a policy advisor and was a liaison for the Illinois Community College Board, Illinois State Board of Education, Illinois Board of Higher Education, Illinois State Scholarship Commission and all public institutions of higher education in the state of Illinois. In 1993, Gov. Edgar appointed Louderback to the Illinois Educational Labor Relations Board, where she served for 7 years. She began her career as a fifth grade science teacher in the Dwight Elementary School District. Louderback is a former president of the Literacy Volunteers of America and the Illinois State university Alumni Association.
Louderback received her Ph.D. and Master of Science in Educational Administration and her Bachelor of Science in Education from Illinois State University.
Term Expires January 2023
Robert Navarro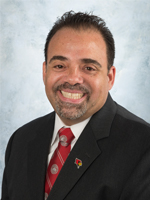 Navarro is currently the President and CEO of Heritage Corridor Convention and Visitors Bureau. In this role since 2006, Navarro administers a viable destination marketing program for the Illinois and Michigan Canal National Heritage Corridor region that is designed to achieve economic development through tourism, marketing, promotion and development. He previously served as Director of Housing Services as U.S Equities Reality, where he worked to open the 18-story University Center in the Chicago loop that houses students from Columbia College Chicago, DePaul University and Roosevelt University. Navarro also served as a facility manager for the DuPage Children's Museum and began his career at Illinois State University as an assistant director. He is a founding member of the Illinois State University's Latino Alumni Network and a former chairman of the Illinois Council of Convention and Visitors Bureaus.
Navarro earned his Doctor of Philosophy from Illinois State University.
Term Expires January 2025
Aselimhe Ebikhumi, Student Trustee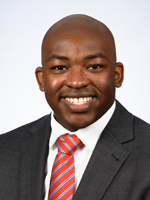 Aselimhe, known by many as Ash, is a Junior Political Science & Economics double major. In his time on campus, he has served as the President of the Association of Residence Halls, currently serves as the Director of Alternative Breaks, and is an active member of the Honors Program as a Peer Mentor. He is passionate about creating a safe and inclusive environment on campus, ensuring that students feel their voices are heard. He is an advocate for equity and accountability and looks forward to contributing to the ongoing conversations surrounding these topics. Upon graduating from Illinois State University, he hopes to begin pursuing a career in higher education by first attending law school and obtaining his J.D. He is excited to serve as the student voice on the Board of Trustees.