Commencement
Congratulations to the spring and summer 2020 graduates! We are so #RedbirdProud of you. You've achieved so much during your time at Illinois State and are ready to begin your next adventure.
In lieu of the originally scheduled spring commencement ceremonies, Illinois State produced recorded, online ceremonies along with photo galleries of the graduates. In addition, we celebrated our graduates by sending each a diploma cover, commencement program books, commemorative tassel and alumni keychain.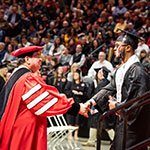 Winter 2020 Ceremony
Spring and summer 2020 graduates are also invited to participate in the winter 2020 ceremonies. Register now or in the fall for these ceremonies.
College Ceremonies
Select your college to view Commencement ceremony and graduate photo galleries.