Commencement
Congratulations to the winter 2020 graduates! We are so #RedbirdProud of you. You've achieved so much during your time at Illinois State and are ready to begin your next adventure.
As the COVID-19 pandemic continues to impact our nation, state, and campus community, it has also altered plans for one of Illinois State University's most cherished traditions: Winter commencement. These ceremonies mark the culmination of a student's time on campus and honor an important milestone. Each of you deserves to be celebrated.
Illinois State does not want the achievements of our students to go unheralded. Therefore, we will honor and recognize these accomplishments with an online ceremony featuring slide shows of all winter 2020 graduates and remarks by President Dietz and other Illinois State officials. These recorded ceremonies will be available for viewing beginning on December 12.
Winter 2020 graduates, see GraduationServices.IllinoisState.edu for more information.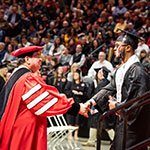 All 2020 Graduates
Following state and local guidelines, the University is continuing to explore ways to host an in-person celebratory experience for all 2020 graduates in spring 2021. To receive future communication about these plans, please complete the 2020 Graduate Communication Form.