Commencement
Congratulations, winter 2020 graduates! We are so #RedbirdProud of you. You've achieved so much during your time at Illinois State, we wish you the best on your next adventure.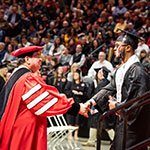 All 2020 Graduates
Following state and local guidelines, the University is continuing to explore ways to host an in-person celebratory experience for all 2020 graduates in spring 2021. To receive future communication about these plans, please complete the 2020 Graduate Communication Form.
College Ceremonies
Select your college to view Commencement ceremony.
Each ceremony recording follows this order: short video of campus scenes, commencement address by President Dietz, greetings from College Dean and college administrators, congratulations from Student Trustee Jada Turner and Student Body President Lauren Harris, welcome from Alumni Association President Steve Smith, conferral of degrees by President Dietz, slide show of all graduates from the academic college, and congratulatory photos submitted by faculty and administrators.
To receive any of this information in an alternate format, please contact Graduation Services at (309) 438-2836 or GraduationServices@IllinoisState.edu.